Dunnage Air Bags can save you time, money and hassle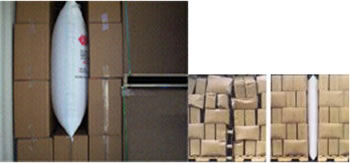 DUNNAGE AIR BAGS block, brace, and protect your merchandise. Use them to fill voids, restrain movement, and absorb vibrations to save your cargo from in-transit damage
---
Safe:
Produced under ISO 9001 and 14001 standards and certified by the association of American Railroads (AAR) and the Railway Association of Canada (RAC). They are 100% leak proof tested before shipping.
---
Cost Effective:
Inexpensive and reusable (for non-railroad use only).
---
Lightweight & Water Proof and Air Tight:
Easy to handle, light in weight, takes up less space. Perfect for easy delivery and storage. These Airbags are waterproof unlike many other paper dunnage bags.
---
Take Shape to Odd Configurations:
Flexible, allowing you the advantage of filling every shape and odd space without damaging your goods.
---
Can Fill a Larger Void:
Due to their flexibility, these Dunnage bags can fill a space up to 18", much larger compared to the paper Dunnage bags which can only fill a void up to 14".
---
| | |
| --- | --- |
| $86.00 | DUNNAGE AIR BAG INFLATOR |
| | Air Release button and Gauge |
| | Works with any air compressor |
| | Includes connection for air bag |
---
| | |
| --- | --- |
| $35.00 | Air Bag Inflator |
| | New Full-Flow Air Dispenser, Fast Filling, Easy to Use |
| | Connect to Safe-Lock Air Bags or can change out |
| | to different inflator connection for other bag types. |
| | This one can Fill Bag or Discharge Air |
DUNNAGE AIR BAG SIZES
General Applications:
Level 1: Recommended for Truck Shipments
Level 2: Commonly used for Container Shipments
Level 3: AAR Approved Rail
Level 4 & 5: RAC Approved Rail and Special


---

How do I determine what size dunnage bag to use?
First, measure the void between your cargo. Then measure the distance from the floor to the top of the load.

---

Do dunnage bags require any type of protection?
It is very important to place corrugated material or some other type of smooth surface on either side of the dunnage bag to protect it from rough edges (i.e. wooden crates, pallets, etc.).

---

What type of equipment is necessary to inflate dunnage bags?
Quick fill snap - on inflator tool.

---

Can dunnage bags be damaged during filling?
Bags can burst with over inflation. (Each bag has a label with recommended pressure). Problems will be eliminated by following the inflation check list.


---